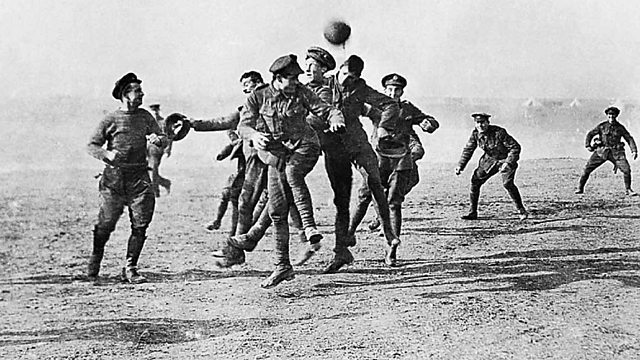 Christmas Truce
Coping through Capoeira
The conflict in Syria continues to send million fleeing to refugee camps across the border. It's an unimaginably distressing time for all, but for young people the loss of their childhood is an added suffering. We speak to Tarek Alsaleh who is trying to offer children a brief respite with a sport called Capoeira.
Christmas Truce
In 1914 The First World War was entering Christmas for the first time. It was marked by events that would never be seen again in the history of warfare. A spontaneous truce broke out along much of the front line. Famously in many cases the fighting was replaced by football. Dr Iain Adams from Lancaster University, who has studied the truce for many years, explains how those kickabouts marked a watershed in human history.
Double Dutch
One is a retired wheelchair tennis legend, the other a young sprint sensation. Both are Dutchwomen, both Paralympic gold medallists and we have brought them together for the first time. Esther Veger and Marlou van Rhijn on Paralympic sport, overcoming prejudice and being the Babe Blade.
What's in a Name?
With the 'Blade Babe' on the show, it seems a good opportunity to look into the psychology of nicknames in sport. From the Wardrobe (Papa Bouba Diop) to the Refrigerator (William Perry) and on to the Hoover (Brooks Robinson) plus other non-household related names. Dr Robert Kennedy (Bob) from the University of South California (USC) illuminates.
Putting the Car in Oscar
The blurred line between the drama of sport and the poetic licence of Hollywood was never cloudier than when film legend Steve McQueen was astride a motor bike or behind the wheel of a racing car. We find out about how he mixed his off screen passion for motorsport with his starring roles on screen from the famous car chase in "Bullit", to his motorcycle gymnastics in "The Great Escape"
From Our Own Sporting Correspondent
The BBC's Nick Cavell on the contrast between football fanatics in Morocco and the seemingly unmoved European fans during the Club World Cup
Last on
Sat 21 Dec 2013
10:06

GMT