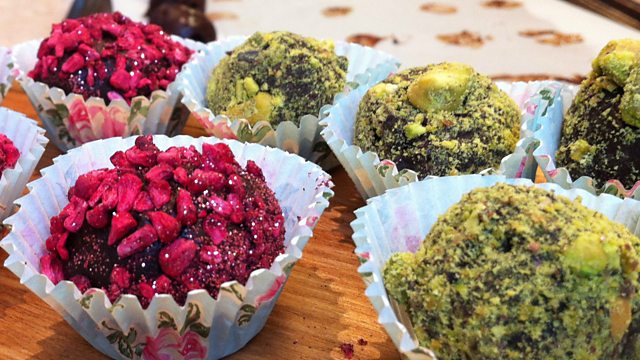 Food Friday: His & Hers Christmas Truffles
For our Food Friday recipe we've come up with something that you can make ahead for Christmas, the only problem is that I doubt you'll be able to wait that long to eat the lot. Today it's the turn of Penny Smith to make something delicious for us in her kitchen in Countesthorpe...
His & Hers Christmas Truffles
These truffles are a terrific Christmas standby as once you've made the basic truffle you can pop them on a tray in the freezer and when they're frozen solid, you can put them in a freezer bag. Then when you want them just leave them to defrost for a couple of hours in the fridge and coat just before serving!
Ingredients
200 ml double cream
75g light muscavado sugar
250g dark chocolate I like Callebaut 53.8%
Small pinch of sea salt
His Coatings
50 g pistachios (crush after peppercorns)
Half a teaspoon black pepper crushed well in a pestle and mortar
Her Coatings
Freeze dried raspberry granules (10grm tube is plenty)
Edible pink glitter of your choice! mix together to make your glitterberry coating!