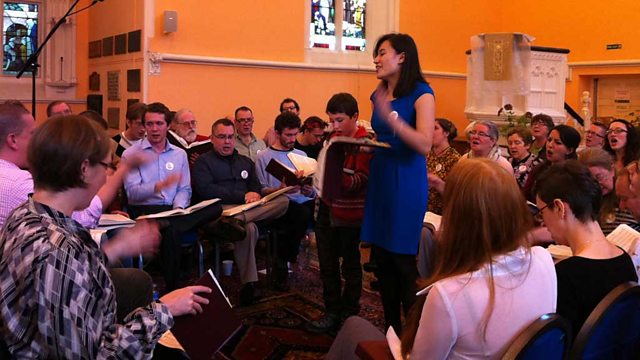 In Perfect Harmony
Listen in pop-out player
A programme celebrating our collective love of singing in harmony, looking at when and why we do it, what it means to us musically and emotionally, and how different countries sing harmony differently.
Since time began, man has sung and soon another man added a harmony part – for companionship, for sharing, for support, for humour, for joy, for cleverness and for lovely, satisfying sounds. This programme investigates the different types of harmony singing throughout the world – how does it differ from place to place, what is it for? We hear from harmony singers from around the world.
Harmony has been a natural part of singing – from classical chorale singing to pop music, via doo-wop, barbershop quartets, African choral music, gospel, opera, rock, rap, and even death metal. The first thing a baby does is make vocal sounds to 'harmonise' with its mother. All types of music use it – usually in 3rds or 6ths around the melody to make the melody sweeter in Western cultures. Far Eastern Harmonies are different technically – traditionally harmony has been missing, but there are examples of overtone singing where the singer makes more than one note at the same time. There is something human in the ability to complement each other vocally – immensely satisfying and beautiful. It's also a simple expression of companionship without a need for instruments.
We hear about the African village that hunts using harmony singing to guide them as a team – if they can't sing, they won't eat. We hear about an Armenian composer who was driven mad when trying to compose a piece for eight-part harmony and we speak to Wendy Wilson (daughter of Brian Wilson from The Beach Boys) about how she grew up singing harmony with her mother and sister, and how she carries on the legacy of her father today with her band Wilson Phillips. We also hear from music therapists working with terminally ill children who can no longer speak, but can sing, and also someone who works with patients with chronic lung disease where singing in harmony improves their quality of life. From South African choir leaders working with disaffected youth to Orkney women trying to keep traditional songs alive, via Abba, St Paul's Cathedral Choir, Queen, the mash-ups being created with UK school children and Fleet Foxes, the world of harmony is here.
The programme is produced by Laura Parfitt and brought together musically by composer and radio sound designer Chris O'Shaughnessy.
Picture: Sacred Harp Singing in London
Last on
Christmas Day 2013
22:06

GMT