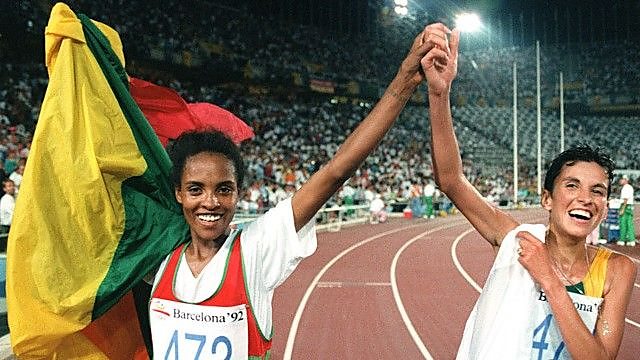 Doha Own Goals?
Sport ministers from around the world met in the Qatari capital this week for the Doha Goals Forum. They agreed on four initiatives however there was no action agreed on worker rights in Qatar. We investigate why with Richard Attias, Executive Director of Doha Goals and Francois Moriniere of L'Equipe, who hosted a talk with Hassan Al-Thawadi the Secretary General, Qatar 2022 Supreme Committee.
From Our Own Correspondent Sport
The BBC's Ben Smith brings us our 'From Our Own Sporting Correspondent' with the story behind his trip to Paris to meet the recently freed footballer Zahir Belounis.
Meyer's Mandela Medal
In 1992 Elana Meyer was the first South African Olympic medallist since the country's re-admittance to the games. White South African runner Elana Meyer and black Ethiopian runner Derartu Tulu fought a close race in the 10,000 m (won by Tulu) and then ran a victory lap hand in hand. We hear her memories of Nelson Mandela and that iconic moment.
SEA Saw
Nick Marshall-McCormack is in Myanmar to see the South East Asian (SEA) games. A mix of popular and more traditional sports, it is a chance to showcase a country that has changed a great deal since it last hosted the event in the 1960's
Princely Apology
Ever since Argentina and Iran were drawn in the same group at the World Cup next year, Lionel Messi has been the subject of some fearsome abuse from sections of the Iranian fan base. There were many subsequent apologies including the exiled Crown Prince of Iran who wrote Messi a letter of apology. He reads that letter for us and explains why he sent it.
Aboriginal Original
Australia is dominating Cricket's Ashes series against England and are set to win back the urn, but could the continued success lie in the Outback? The cricket authorities in Australia are desperate for their sport to remain the nation's favourite but in the vast remote regions of the Outback it's a huge challenge. We've gained special access to an aboriginal village to report on the mission to make cricket relevant there.
Last on
Sat 14 Dec 2013
10:06

GMT