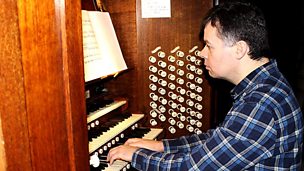 Dupré: Le monde dans l'attente du sauveur (Symphonie Passion)
Duration: 08:00
Martin Baker performs Dupré's Le monde dans l'attente du sauveur (Symphonie Passion) live from Westminster Cathedral.

The piece was first performed by Dupré himself on the organ in Westminster Cathedral in the 1920s, and was based on an earlier improvisation on the Christmas plainsong hymn Christe redemptor omnium.

Presented by Louise Fryer.
This clip is from
Martin Baker (organ) performs Messiaen's La Nativite du Seigneur at Westminster Cathedral.
First broadcast: 01 Dec 2013