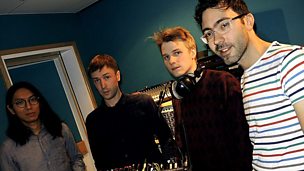 Teleman live in session for Marc Riley
Duration: 22:13
Teleman join Marc Riley for a live session down the line from London.

They've just finished a massive tour with Suede around Europe and are putting the finishing touches to their Bernard Butler produced debut album.

The band is a favourite of the show and Marc believes brothers Thomas Sanders (vocals, guitar) and Jonny Sanders (synths, backing vocals) along with Pete Cattermoul (bass) and Hiro Amamiya (drums) make perfect pop songs.
This clip is from
Marc has Teleman in session from the deep dark wilds of London Village.
First broadcast: 26 Nov 2013