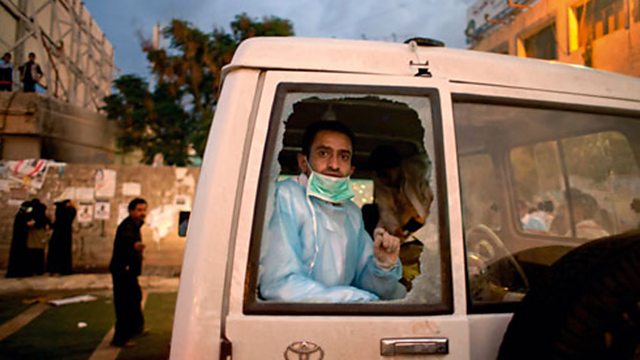 Healthcare in Danger
Listen in pop-out player
When countries are in conflict some of the first people to respond are doctors, nurses and paramedics. However many of these healthcare workers are facing increasing threats and violence. This week in London, The International Committee of the Red Cross has consulted experts around the world to try and find ways to protect those on the frontline. They met at the Royal Society of Medicine in London, and the BBC's Smitha Mundasad went along to join them.
Nipple Tattooing
After the trauma of breast cancer, and for women who have to have a mastectomy, the next decision is about how and whether to undergo breast reconstruction. The conventional way is to have plastic surgery but some women are also turning to a more artistic method to help complete their recovery. Katy Watson reports from Washington.
Therapeutic Hypothermia
In 1999 a 29-year-old woman was skiing in Norway when she fell through the ice, became trapped in icy water and her core body temperature went down to 13.7 degrees. Remarkably she survived, as in certain circumstances, cooling the body can save it by protecting against some of the damage and deadly repercussions of a heart that has stopped beating and pumping blood around. Kevin Fong is a consultant anaesthetist at University College Hospital and tells Health Check when hypothermia was first introduced as a medical treatment.
Since 2003 the standard treatment for cardiac arrest patients has been to cool the body down to around 33 degrees Celsius. But a new Swedish study published in the New England Journal of Medicine has found that cooling patients to this temperature, compared with those cooled to 36 degrees, makes no real difference to their survival. Dr Jerry Nolan, consultant anaesthetist at the Royal United Hospital in Bath and vice chair of the European Resuscitation Council, explains the findings.
Photo: Ambulances take huge risks during armed conflicts in Yemen. © COSMOS / Catalina Martin-Chico
Last on