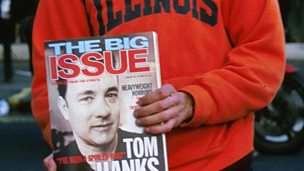 Big Issue vendor uses card payments to increase sales
Duration: 01:42
Big Issue vendor Simon Mott, who is the first in the country to accept card payments, found members of the public are now less likely to carry cash:

"Increasingly I found my customers weren't carrying cash, they'd like to buy the magazine and they'd say "sorry I haven't got any cash on me" or they'd be trying to give you £20 notes and you wouldn't have change for them."

Mr Mott decided to try to solve the problem without telling the Big Issue and found Swedish technology firm iZettle which provide portable card readers:

"I did this on my own back without the Big Issue knowing at first,

"I have a card reader, a mobile chip and pin card reader, which connects via Bluetooth through a smart phone and lap[top] and allows you to take a secure card payment."

Mr Mott, who became homeless about three years ago, says people were "initially surprised" but the reaction has been positive:

"People are now more used to paying by card, so the technology have moved on and they are quite happy to pay by card when they can".
Available since: Wed 20 Nov 2013
This clip is from
Jeremy Hunt outlines government plans to overhaul the way NHS patients are cared for.
First broadcast: 19 Nov 2013