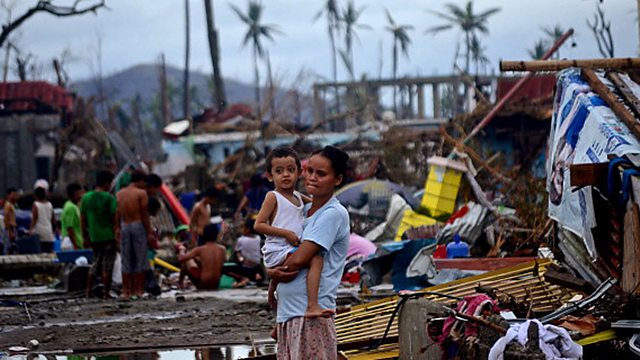 Typhoon Haiyan
According to the United Nation as many as 11 million people in the Philippines have been affected by the typhoon, some of whom are still waiting for help to reach them. There has been discussion about the need to bury dead bodies and the fear of disease spreading, but Dr Richard Brennan of the WHO explains that the risks are actually not quite as might be expected.
Forensic DNA matching could help identify victims of Typhoon Haiyan.
Dr Thomas Parsons, Director of Forensics at the International Commission for Missing Persons, and his team have been called in to help in the Philippines. Forensic DNA matching techniques could be used to identify unnamed bodies in the weeks and months to come, helping surviving family members searching for missing relatives.
(Photo credit: A woman holds a child surrounded by debris in an area devastated by Typhoon Haiyan on November 12, 2013 in Leyte, Philippines ©Getty Images)
Last on
Sun 17 Nov 2013
14:06

GMT