Last on
Six pound supper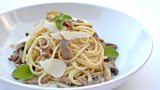 Serves:
4 Adults Time:
10 mins prep & 10 mins cooking
Cost: £1.19 per serving
Calories: 462 per serving
This is a super simple version of carbonara which should take a maximum of 20 minutes to make – 10 minutes to prep the ingredients and 10 minutes to cook. I add mushrooms but if you're not keen just leave them out. You could add peppers or other vegetables instead. If you don't have spaghetti any pasta shapes will be fine.
Many carbonara recipes call for cream, but I think it makes it too rich and adds unnecessary calories. Traditional carbonara in Italy doesn't have any cream. Egg and a little parmesan cheese stirred into the hot spaghetti gives it enough creaminess. Parmesan is quite strong you don't need a great deal to get that cheesy flavour. If you don't have parmesan then strong cheddar is fine.
If you would like to serve a side dish with your carbonara, a simple salad is perfect. If your kids don't eat salad any steamed vegetables such as peas or green beans will go fine.
Ingredients: Carbonara spaghetti
400g spaghetti
2 tablespoons olive oil
6 rashers smoked bacon, fat removed and cut into thin strips
1 teaspoon dried Italian mixed herbs
4 garlic cloves, crushed
300g mushrooms, sliced
40g finely grated parmesan cheese (or 50g mature cheddar)
2 eggs, whisked
Freshly ground black pepper to taste
To serve
Salad or green vegetables (optional)
Extra cheese & fresh basil leaves (optional)
Method:
Break the spaghetti in half (this makes it easier to mix later on) and cook as instructed on the packet. This should take around 10 minutes.
Heat the oil in a large pan (big enough to hold the pasta as well later on) and fry the bacon with the garlic and herbs for a few minutes until cooked. Add the chopped mushrooms and cook for another 1 - 2 minutes until they are golden. Do not overcook the mushrooms as they will become soggy and grey. Keep the heat high when cooking the mushrooms.
Drain the cooked spaghetti reserving a little of the cooking water. Add the spaghetti to the bacon and mushrooms, remove from the hob and toss to combine all the ingredients well. 
Now, add the egg and grated cheese to the spaghetti stirring quickly as you do. Toss the egg and cheese through the hot spaghetti until everything is very well coated.
Return the pan to the hob and over a medium heat stir everything really well for around a half a minute, just to ensure the egg is cooked. If you need to you can add a splash of the cooking water from the pasta to loosen the spaghetti and stop it sticking too much. The carbonara should be piping hot throughout and the egg cooked but not scrambled and dry. Serve immediately topped with freshly ground black pepper and extra parmesan and basil leaves if you like.
A green salad or simple steamed vegetables make a great side dish if you need one.