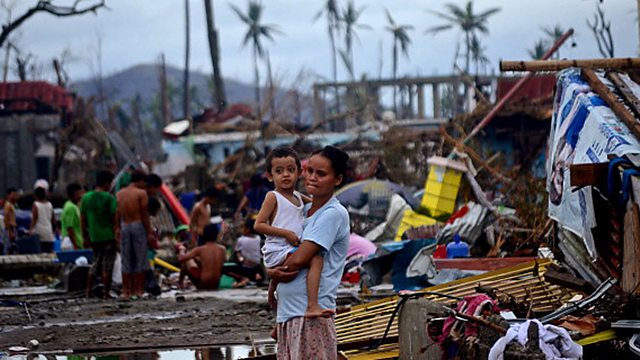 Typhoon Haiyan: Victim Identification
Listen in pop-out player
Typhoon Haiyan caused devastation as it swept across the Philippines, affecting millions, and leaving survivors searching for missing family members. We hear from Dr Thomas Parsons, director of forensics at the International Commission for Missing Persons, who has been called in to help. Forensic DNA matching techniques could be used to identify unnamed bodies in the weeks and months to come, helping to give information to surviving family members searching for missing relatives.
Southern African Large Telescope
High up on a plateau in the Karoo desert in South Africa lies the Southern African Large Telescope. It is the largest optical telescope in the Southern Hemisphere and has made a number of new discoveries since beginning operation in 2011. But it has also had some surprising health and societal benefits for the people living nearby. Reporter Meera Senthilingam meets the astronomers and townspeople benefitting from the telescope.
Birds Avoid Phantom Road
Whilst it is common knowledge that many animals avoid roads, the exact reasons why have remained unclear. Now, Professor Jesse Barber and a research team at Boise State University in the US have shown that traffic noise, by itself, causes birds to evade an area – information that could help us to create more effective conservation strategies.
(Photo credit: A woman holds a child surrounded by debris in an area devastated by Typhoon Haiyan in Leyte, Philippines © Getty Images)
Last on
Mon 18 Nov 2013
04:32

GMT