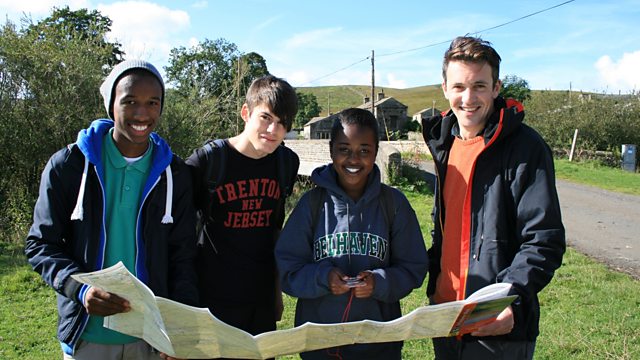 Navigational challenge - reading maps in the hills
Joe Crowley helps three young people who have little or no map reading skills complete a navigational challenge. Three A level students are taken out into a mystery location in the Yorkshire Dales National Park. Their first task is to locate their position. Using a combination of observational skills and a compass, as well as map symbols and features, Isaac, Ruby and Eddie work out that they are in the village of Marsett. Joe asks them to use a map and a compass to find their way to the next destination.
Joe explains how a compass can be related to a map to help navigate and explains the difference between Magnetic and Grid North. The teenagers need to follow a route to a Roman Road. A heli-camera flies above the teenagers so that map features can be related to the landscape. The teenagers make a series of mistakes when they try to find the right path. But they get back on track by relating the map to what they can see. The young people face a walk up a steep hill, marked by contour lines which are close together. At a crossroads they make another error, choosing a bridleway instead of a footpath.
After an unnecessary detour, they meet Joe and confirm their position using co-ordinates. Joe explains how grid references work. The next stage of the challenge sees the young people using their compass and spot heights to find their way. They need to take notice of restrictions to the right of way, but they don't read the noticeboard that tells them what's permitted. Luckily there are no restrictions on the day so they are not trespassing. Following the compass perfectly the trio pass a cairn and meet Joe at the final destination.