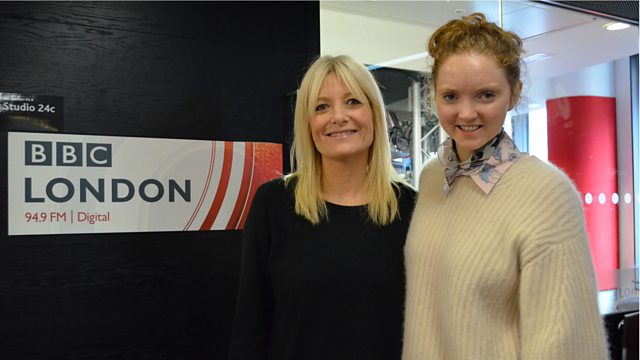 Lily Cole, Stanley Tucci and John Challis
Lily Cole celebrates 10 years of 24 hour plays at The Old Vic, Stanley Tucci on his latest Hunger Games movie. John Challis speaks about his book and showbiz journalist Dean Piper shares his TV reviews and previews.
Last on
Butternut Squash Soup
by Jonathan Phang
Ingredients
1kg Butternut squash, peeled and chopped into 1½ chunks
1tbsp vegetable or light olive oil
1tbsp butter
400g coconut milk (thick and creamy)
1 onion (finely diced)
3 cloves of garlic (finely grated)
2 inch square fresh ginger (finely grated)
1 litre vegetable stock
1 tsp salt
½ tsp ground black pepper
1 tsp dried thyme
1 tsp ground cumin
1 tsp coriander
1 tsp sweet paprika
Finely chopped coriander for garnish
Method
Heat the oil in a large deep heavy bottomed saucepan over a medium heat. Add the butter, stir and melt gently.
Sweat the onions down and then add the garlic and ginger. Cook for 1 minute.
Stir in the butternut squash and coat well with the onions, garlic and ginger. Season with salt and ground black pepper. Add thyme, ground cumin ground coriander and sweet paprika. Cook out for 1 minute.
Pour over the stock, cover the saucepan with a lid and simmer until the butternut squash starts to breakdown.
Add the coconut milk and continue to simmer for five minutes. The squash by now should be fully broken down and the soup will have a slightly rustic texture (if you prefer a smoother soup now is the time to pulse with a hand-held processor).
Finally, garnish with the chopped coriander.
Chicken Pad Thai
by Jonathan Phang
Ingredients
Rice Noodles
Shallots
Garlic
Chilli
Chicken Breast - Sliced
Chopped roasted peanuts
Pickled radish
Chives
Coriander
Fresh lime
Tofu
Beansprouts
Sauce:
2tsp tamarind paste
2tbsp fish sauce
2tbsp fresh lime juice
2tbsp palm sugar
3tsp chilli sauce
1tbsp soy sauce
Method
Blend all the sauce ingredients over a saucepan
Fry the tofu separately to your liking
Soak the rice noodles
Prepare some scrambled eggs
Mix the onions chilli and garlic and cook down for a couple of minutes
Add the chicken, beansprouts and tofu to the mix
Garnish to taste