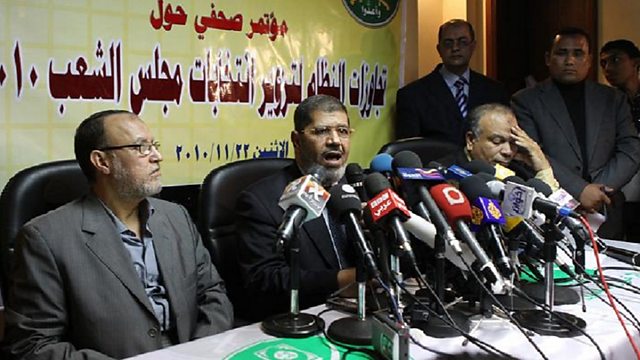 Egypt and Tunisia
Listen in pop-out player
Two tales of the continuing aftershocks of the Arab Spring. BBC Middle East Editor Jeremy Bowen explores the worldviews and the life histories of some of the Muslim Brotherhood leaders who are now on trial near Cairo. For his old acquaintance Essam al Erian, imprisonment and trial by the Egyptian state are not new experiences; rather, they're a continuation of decades of repression. After a brief period in power after the fall of Mubarak, the Muslim Brotherhood is back in an accustomed role as an underground organisation. So will this latest attempt to crush it be any more effective than the dozens which went before?
In Tunisia, where the events of the Arab Spring first took flight with the removal of dictator Zine el Abidine Ben Ali, there are also lasting reverberations of the political earthquakes of 2011. The country's avowedly moderate Islamist government has been beset by threats and rhetoric from all sides; some outspoken opposition figures have been assassinated; and worst of all, the country is awash with guns and other weapons, many originally from Gaddafi's arsenals. And it's not just Libyan armaments which have found a new home in Tunisia: Andrew Hosken meets some of the dubious former regime figures who're now hiding out in Hammamet.
Presenter: Pascale Harter. Producer: Polly Hope.
Photo: Essam El-Erian (L), Muhammad Mursi (centre) and Saad al-Katatni (R) of the Muslim Brotherhood parliamentary group, attend a joint press conference in Cairo, November 22, 2010, KHALED DESOUKI/AFP/Getty Images
Last on