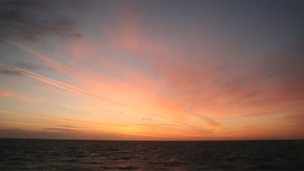 Thought for the Day - 29/10/2013 - Rt Rev Graham James
Duration: 02:59
Good morning. Like many others, yesterday I listened again to Lou Reed's music, since his death gained so much media coverage. While many people may be able to hum Walk on the Wild Side Lou Reed didn't have that much chart success. The Velvet Underground sold just 30,000 copies of their first album in five years though it was famously said that "everyone who bought one of those 30,000 copies started a band". Actually it wasn't true. I bought one.

Commercial success wasn't the point for Lou Reed. That's why he was so refreshing. Music was his life, to the exclusion of almost all other interests. He gave it such devotion he borrowed religious language as perhaps the only one powerful enough to describe the intensity of his commitment. He said "my God is rock 'n roll. It's an obscure power which can change your life. The most important part of my religion is to play guitar."

Lou Reed also spoke about the search for the perfect sound. Over the years his music became more spare. He disliked over-dubbing, the addition of a new sound or track to a recording, believing it inauthentic. His lyrics show how he knew our best experiences in life are often overdubbed by our human imperfections. His hit Perfect Day begins as something approaching a conventional romantic song. "It's such a perfect day, I'm glad I spent it with you. You made me forget myself. I thought I was someone else, someone good." But the song continues with the repeated line "You're gonna reap what you sow." Some believe this was a veiled reference to heroin and it was famously used in the film Trainspotting giving the words a hint of menace. But Lou Reed always denied the connection. There are strange echoes here of St Paul saying to the Galatians "Do not be deceived; God is not mocked; you reap what you sow."
Lou Reed's music and lyrics spoke to millions of people at a host of different levels. He didn't impose interpretations. That's what being a great artist is all about. Perfect Day has been covered by many other artists and played at weddings and in other settings far distant from the context in Trainspotting. It inspires people whose lives were very different from Lou Reed's. Of course, his quest for the perfect sound or a perfect day wasn't any conventional search for God. But Christians, like others, read their own experiences into his work. That's what makes it so powerful. You reap what you sow – good and bad. When he used those same words to the Christians in Galatia St Paul was keen that they should not be deceived by false promises. Lou Reed always struck me as remarkably free of self-deception. For someone so applauded, that's a spiritual achievement in itself.
Available since: Tue 29 Oct 2013
This clip is from
Reflections from a faith perspective on issues and people in the news.