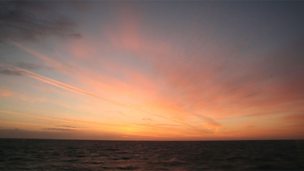 Thought for the Day - 28/10/2013 - Rev Professor David Wilkinson
Duration: 02:49
Good morning. Following the great storm of 1987, one tabloid newspaper felt the only response was to have a telephone poll on whether the then Head of the Met Office, Sir John Houghton, should be sacked. It wasn't clear whether they were blaming this most conscientious of scientists for the hurricane itself, never mind a failure to predict it.

In the run-up to today, weather forecasters now understandably gave very careful warnings about the approaching storm. This is not only to avoid another Michael Fish moment – but as we've heard severe weather can lead to damage, disruption and even death. Aided by the growth of supercomputers and satellite sensing of the atmosphere, forecasting has improved markedly in 25 years, but there's still considerable uncertainty. This uncertainty, when it comes to future weather, can never be completely taken away.

The reason for this was discovered in 1961 by a meteorologist at MIT. Ed Lorenz was mathematically modelling the atmosphere, and discovered the weather was a 'chaotic' system. Its laws can be known but it is so sensitive to initial conditions that predictions always have some uncertainty. This became known as the 'butterfly effect', that is the flapping of a butterfly's wing in Rio can lead to a hurricane in New York.

Such an effect is a reminder that the world is not as predictable as many think. Before the discovery of chaos, Isaac Newton's work had led to the universe being likened to a clock - a mechanism that once you understood how it works will allow you to know what it will be like in the future. This was used to deny that human beings could have freewill, as we were just part of the machine. Also God could not work in special ways beyond his initial act of creation, as this would be poking his fingers into the predictable mechanism.

Of course some systems are like this, for example the orbit of the Earth which determines the seasons. But many more systems in the world are chaotic and there are limits to what we can know about the future.

This gives a very different model to a clock. It reveals a Universe dynamic, exciting and at times frustrating. It could be in this unpredictability of certain systems that human freedom is located. Indeed for those who believe in a God who created such a Universe then they would expect to see him work not just in the regularity of the world, but also in the unexpected and the surprising.
At the very least, for me it is an encouragement to continue to pursue the best scientific models, while recognizing with humility that science will not tell us everything about everything.
Available since: Mon 28 Oct 2013
This clip is from
Reflections from a faith perspective on issues and people in the news.