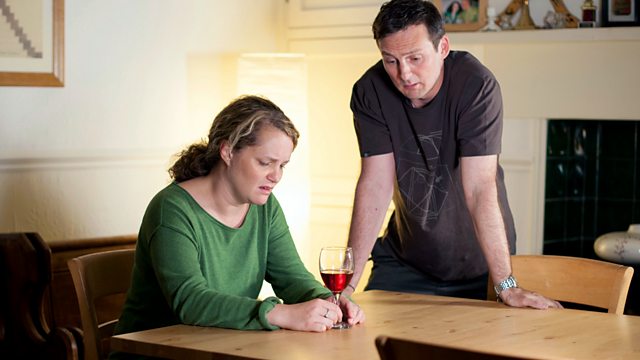 14-year-old Beth suddenly stops talking. She won't talk in school, and she won't talk at home. Her mum Louise and dad Greg are horrified, not least because it took the school to point out her silence, lost in the daily whirl of family life. But Beth discovers a warped power in her silence: geeky Beth now has kudos. Her aunt Toni reckons she'll be okay in time, but her brother Patrick just wishes she'd get over herself.
When even the psychologist is met wth silence, each family member starts to panic that the silence is a result of something they've done, resulting in a stream of confessions that Beth wishes she'd never heard.
Now Beth knows what she knows, it is too hard to break the silence, until events at a family meal reveal secrets too big to keep hidden. But could Beth's silence finally provide a way for them all to start talking..?
Last on
Music from the programme
Most of the music from the programme is especially composed by Steve Wright.
The rest of the commercial tracks can be found
here
.
Credits
| Role | Contributor |
| --- | --- |
| Louise | Emma Cunniffe |
| Greg | Anthony Flanagan |
| Toni | Amy Nuttall |
| Beth | Charlie May-Clark |
| Pads | Ben-Ryan Davies |
| Mrs Claffey | Becky Hindley |
| Dr Aram | Archie Lal |
| Lucy | Jody Holt |
| Nathan | Paul Popplewell |
| Executive Producer | Colin McKeown |
| Producer | Donna Molloy |
| Director | Robert Glenister |
| Writer | Esther Wilson |