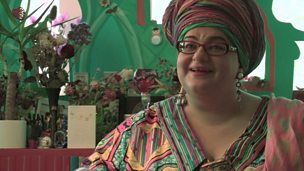 How to be a visionary leader
Duration: 04:05
How do generate great ideas and creative solutions? At this year's Guardian Edinburgh International TV Festival (GEITF) Alan Yentob chaired a lively debate on leading creativity. The panel comprised Nick Curwin, chief executive of The Garden Productions, Farah Ramzan Golant, chief executive of All3Media, Carrie Cracknell, associate director of the Royal Court Theatre and Elaine Bedell, director of entertainment and comedy at ITV.
The BBC Academy interviewed some of the UK's top creative industry heads to find out how they get their best out of their teams and what advice they have to offer. Does a stimulating and well-designed office boost creativity, how much does a shared vision help a team, or are space hoppers and Haribo the best solution? Find out by watching these films.
Available since: Fri 11 Oct 2013
This clip is from
The College of Production's short-form audio/video resource for training and learning.