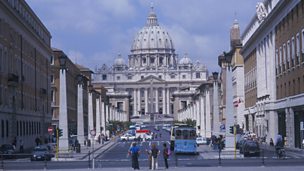 Can Hans Küng save the Catholic Church?
Duration: 13:03
The Roman Catholic Church is in crisis. Congregations are shrinking, teachings on contraception and sexuality alienate more than they illuminate, and the spectre of child abuse lurks in the background. These are several of the themes dealt with by Catholic theologian Hans Küng in his new work 'Can We Save The Catholic Church?' He discusses the future of his church with Anne McElvoy.
Available since: Wed 9 Oct 2013
This clip is from
Radio 3's flagship arts programme until 2013. Over 350 editions available in the archive.