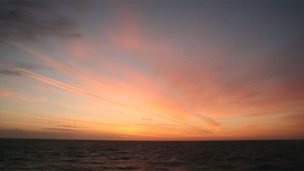 Thought for the Day - 05/10/2013 - Rev Roy Jenkins
Duration: 03:03
If Neil Kinnock, lifelong Cardiff City fan, turns up for today's match with Newcastle, he's likely to get some friendly ribbing from fellow-supporters. They're still tickled by the incident the South Wales Echo headlined as 'One lord a-leaping' - Lord Kinnock and other members of his family, that is, asked to move from the home seats at Fulham because they'd expressed their joy at a Cardiff goal rather too heartily. They'd got the wrong tickets, and were politely asked to move to an area where their celebration would be a less of an intrusion on local grief. It was all settled good naturedly, and to great amusement.

Those who've never got the point of sport wonder what all the fuss is about when grown men and women reach apparent ecstasy over a game; childish, they chunter, but the childlike unrestrained expression of delight, and the desire that everyone should share the happiness, shouldn't really be hard for even the grumpiest to grasp.

When the overflow of enthusiasm takes no notice of reactions it can become darker.
Sometimes that's a symptom of a clinical condition which ignores other people and simply can't understand why they might be offended or distressed.

But it can also be a trumpeting of vengeance, the bloody-mindedness which says, I'm the most important person around here, my tribe has conquered, and we'll do what we like at whatever volume we choose, and whoever suffers.

When that assumes a religious dimension - of whatever stripe - it can be even more unpleasant, fervour masking nastiness, conflict provoked in the self-seeking quest to appear hero or victim, for the sake of heaven…a heaven which weeps at such distortion...
Available since: Mon 7 Oct 2013
This clip is from
Reflections from a faith perspective on issues and people in the news.