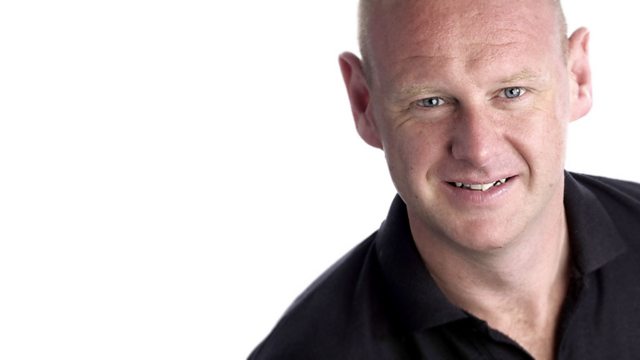 Titanic violin and Paul Merton
Neil chats with comedian Paul Merton and hears about the tour which comes to the south this week.
And, on the weekend that the violin once owned by Titanic band leader Wallace Hartley goes under the hammer, Neil talks to the auctioneer about the instrument's history and the man himself.
Lena Samuels reviews another DVD. Hampshire county bowler Steve Whitehead brings us up to date with news and results from the bowls leagues, Chris Carnegy has his take on the local news agenda with some original poetry and there's a chance to help compile the A-Z playlist.
For those on the roads across the south of England, there is travel news as it happens. And a smile is promised as the weekend draws to a close.
Neil's Sunday evening programme is a mix of reviews and previews from the world of arts and culture, mixed with a selection of music that will leave you wanting more.
BBC Radio Solent offers a choice of listening on a Sunday evening. Neil is on FM, AM and online. The Paul Miller Soul Show is on digital radio and online.
Last on
A-Z Playlist. Musical Instruments.
Andrews Sisters – Boogie Woogie Bugle Boy
Bermuda Triangle – Barry Manilow
Centrefold - J. Geils Band
Dr. Hook – When You're In Love With A Bugle Woman
Elton John – Piano Man
Fiddler On The Roof - Topol
Goldley & Crème – Under Your Drum
Hurdy Gurdy Man - Donovan
It's A Harp Ache – Bonnie Tyler
Jim Reeves – Distant Drums
Knowing Me Knowing Uke - Abba
Living In A Squeeze Box – Blow The House Down
Marti Cello – Close To You
Nicola Roberts – Beat Of My Drum
Oboe – Bob Dylan
Penny Whistle Lover – Lionel Richie
Quick Joey Small – Kasenatz-Katz
Rose Garden - Violin Anderson
Sugar Candy Kisses – Mac and Katie Bassoon
Tubular Bells – Mike Oldfield
U2 – With Or Without Ukulele
Viola - Ultravox
While My Guitar Gently Weeps – The Beatles
Xylophone – Birthday Waltz
Yesterday Has Gone
Zev Confrey – Kitten On The Piano Keys