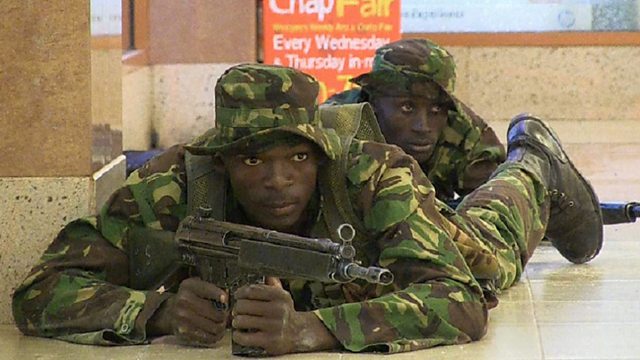 Terror in Kenya and China's surplus of bachelors
Listen in pop-out player
Stories on the terror attack at a shopping mall in Kenya and China's surplus of bachelors.
Kenya is in mourning. Police continue to examine the wreckage of the Westgate Mall looking for information on the perpetrators of the assault and four-day siege which shocked the country and the world. Gabriel Gatehouse was outside the mall and he brought us a personal take on the week's events.
Also in the programme, Lucy Ash visits China, where there are 118 men for every 100 women. This means a surplus of bachelors and a shortage of unmarried young women. Some men will go to enormous lengths – and huge expense - to find true love.
Presenter: Pascale Harter
Producer: Mike Wendling
Photo: Two soldiers take position on the floor inside Westgate mall in Nairobi. Nichole Sobecki/AFP/Getty Images
Last on
Thu 26 Sep 2013
18:50

GMT