Venezuela – Out of Stock
Venezuela appears to be on the edge of an economic crisis, with inflation doubling and the country sliding into recession. At the heart of the crisis is a simple human predicament - the challenge of finding basic imported goods – like milk and toilet rolls. Now gossip and the black market may be the householders' best bet as supermarket shelves are laid bare. Ed Butler follows the consumers' quest for basic goods, examines the rumours of smuggling and massive corruption - and asks where it all went wrong.
Produced and presented by Ed Butler.
(Image: A supermarket in Maracaibo, Venezuela which is out of stock. BBC copyright)
Last on
Sat 28 Sep 2013
18:06

GMT
Francisco and Rosa Paez, Caracas Venezuela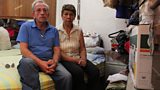 The couple, who are landlords, are forced to live in their own garage.
They have been waiting years to gain access to their own property next door, but cannot do so because of Venezuela's extremely strict tenancy-protection laws.
Long queues at Maracaibo Supermarket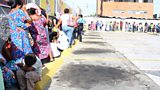 Poor men and women often travel many miles every day, and have to queue for up to five hours, sometimes in 40 degree heat.
Out of stock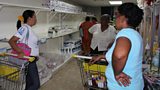 Basic goods like milk, butter and toilet rolls are disappearing from the supermarket shelves quickly. Critics say that production is down, and that the government needs new economic policies to fix the problem.