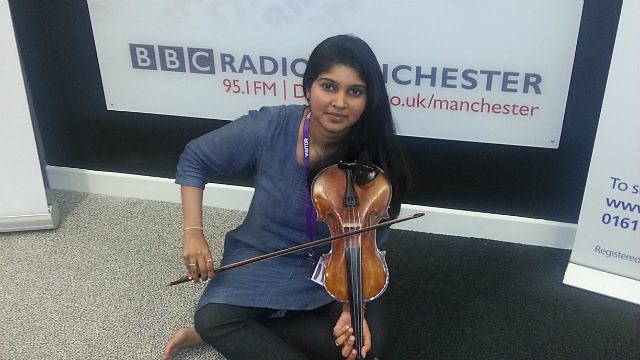 The Big Interview: Violinist Madhu Tanjorkar
On the latest edition of Desi Nation on BBC Radio Lancashire the Big interview was with a violinist and vocalist, originally from Mumbai in India but now living in Bolton.
Born with talent in both music and dance, Madhu Tanjorkar was introduced to music by her father, the multi-instrumentalist and vocalist Guru Shekhar Tanjorkar.
With a very traditional upbringing in a South Indian family she learnt Carnatic music as well as getting her doctorate in medicine. Drawn to the world of music, she also learnt the Hindustani style of music alongside her Carnatic training.
Since 2011, she's been a member of Tarang which is the UK's National Ensemble for Indian Music. As a solo artist she has performed across the UK, India and Europe. Now she teaches music classes across the Northwest, aiming to spread Indian music across the world.
In this excerpt from her interview with presenter Raees Khan, she talks about the responsibility of her family's musical background. But she begins by describing the moment her father introduced her to the violin…