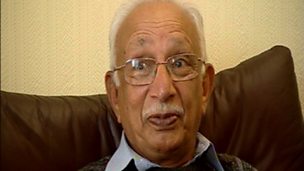 Dr Ganesh
Duration: 03:43
Dr Ganesh came to Wales in the 1950s and like many of his fellow Indian graduates, he had great expectations. Here he tells us about his life as an Asian doctor in the South Wales Valleys.

Indian doctors became the backbone of the Welsh Health Service through a time of unprecedented change. In the 1930s the poverty, deprivation and poor health these doctors confronted in Wales were among the worst in the Western world and the experience of living and working in these conditions was a huge influence on the Labour Health Minister, Aneurin Bevan when he negotiated the creation of the National Health Service after the war.

But Bevan's radical new Health Service, which began operating in the UK on the 5th July 1948, had one unforeseen problem; a huge shortage of skilled labour in the NHS in the 50s and the 60s which forced the UK government to look overseas to the Commonwealth for the kind of skilled labour needed.

In 1963 the new Conservative Health Minister, Enoch Powell, brought his spirit of innovation to the NHS. With Britain still desperately short of doctors, he created a scheme to encourage the best and brightest Indian medical professionals to come to the UK. The NHS, at that time, was seen as the flagship medical system in the whole world so it attracted the best physicians.

As the 60s progressed, Indian doctors became a common sight in Wales especially in deprived areas and by the mid 60s over 18,000 immigrant doctors were working in the UK.
Available since: Mon 16 Sep 2013
This clip is from
How immigrant doctors from the Indian subcontinent changed Welsh communities and the NHS.
First broadcast: 17 Nov 2010
More clips from The Real Indian Doctors