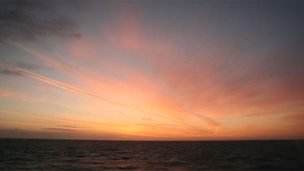 Thought for the day - 04/09/2013 - The Right Reverend Graham James
Duration: 02:48
Good morning.  Among the many hours of broadcasting about Syria in the past few days, one interview has stayed in my mind. It wasn't with a politician, a pundit or even a proponent of just war theory. Last Saturday on PM I heard a telephone conversation between the presenter Jennifer Tracey and an unnamed man living in a Damascus suburb. He'd decided to stay on in Syria. He was well-educated, married and in his late twenties. Though no friend of the Assad regime, he was very realistic about what might replace it. Listening to him seemed at first to confirm that Syria's problems were intractable. Then he mentioned something surprising almost in passing. His wife was expecting a baby.

I was rather taken aback. He'd said their house often shook from nearby cannon fire. It was hardly a safe environment for a newborn child. But I quickly came to revise my opinion. Parents often protect their children more keenly than they do themselves. The birth of children always brings hope, and in Syria such new lives may be a sign of a better future for the country.

Alongside the ghastliness of chemical weapons, their reported use against children in Syria was especially bleak. It was a strike against Syria's own future. That's why this interview was so welcome. Perhaps the best act of defiance from within the country is found in new births, like the imminent one in this Damascus suburb. The child's father did not seem either cowed or recklessly courageous. He seemed to possess the unusual reserves of wisdom and patience which comes to those who've seen and endured suffering. He and his wife were taking responsibility for a new life. They longed for a new beginning...
Available since: Wed 4 Sep 2013
This clip is from
Reflections from a faith perspective on issues and people in the news.