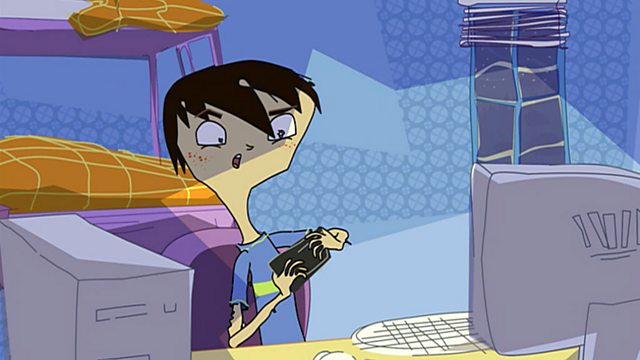 Prògram 10 - Beò-ghlacte / Episode 10 - Hooked
Tha Gabriel air tiogaidean gu cuairt dheireannach geama ball-basgaid a bhuannachadh dha charaidean. Ach tha Tònaidh agus Akira air am beò-ghlacadh le gèam bhidio agus tha iad a' leigeil sìos an caraidean le dìochuimhneachadh, chan e a-mhàin an obair-dachaigh a tha aca uile ri dhèanamh ach an gèam mòr cuideachd.
Gabhaidh am prògram seo a chleachdadh mar thoiseach-tòiseachaidh airson còmhradh mu chàirdeas eadar daoine agus mar a tha iomchaidh a bhith a' dèiligeadh riutha. Tha notaichean tidseir rim faighinn aig bbc.co.uk/ceisteanlara.
Gabriel wins tickets to the basketball finals for all his friends. However, Tony and Akira become obsessed with a video game, letting their friends down by forgetting about both their upcoming homework assignment and the big game.
This episode can be used by parents or by teachers to generate discussion about friendships and how to manage them appropriately and also as a platform to discuss addictive behaviour. Further information is available at bbc.co.uk/ceisteanlara.