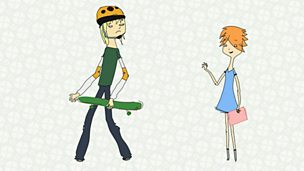 Prògram 22 - Cothromachd / Episode 22 - Balance
Duration: 12:20
Tha caraid ùr aig Lara, agus tha Jacquie a' cur iongnadh air a' bhuidheann le cho ealanta 's a tha i air spèileabord.

Gabhaidh am prògram seo a chleachdadh mar thoiseach-tòiseachaidh airson còmhradh mu dhàimhean eadar daoine gèidh. Tha e air a dhealbh airson a bhith ruigsinneach do bhuidheann a tha cho farsaing sa ghabhas. Tha notaichean tidseir rim faighinn aig bbc.co.uk/ceisteanlara.

Lara makes a new friend, Jacquie, who amazes the group with her skateboarding skills. Lara's strong feelings of admiration begin to confuse her when she finds out Jacquie is gay. Does this mean she is also gay? What does it mean for their friendship?

This episode can be used to approach discussions about same-sex relationships. Further information is available at bbc.co.uk/ceisteanlara.
Available since: Fri 30 Aug 2013
This clip is from
Lean Lara 's a caraidean 's iad a' dèiligeadh ri diofar rudan a tha tachairt nam beatha.