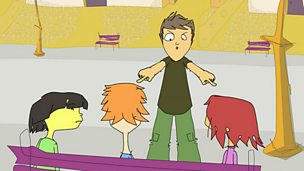 Prògram 24 - Caraidean 's Co-fharpaisich / Episode 24 - Friends and Rivals
Duration: 12:21
Tha cèiliche eireachdail ag adhbharachadh sgaradh eadar an triùir nighean nuair a tha iad a' farpais airson aire. Tha an càirdeas eatorra fo strèan gus an tuig iad an droch bhuaidh a tha aige air a' bhuidheann air fad.

Gabhaidh am prògram seo a chleachdadh airson còmhradh a bhrosnachadh mu bhith dèiligeadh ri caraidean. Tha notaichean tidseir rim faighinn aig bbc.co.uk/ceisteanlara.

A handsome visitor causes a rift between the three girls when they find themselves competing for his attention. Friendships all round are strained until the girls realise how badly it's affecting the group as a whole.

The storyline in this episode can be used to generate discussion on managing friendships. Further information is available at bbc.co.uk/ceisteanlara.
Available since: Fri 30 Aug 2013
This clip is from
Lean Lara 's a caraidean 's iad a' dèiligeadh ri diofar rudan a tha tachairt nam beatha.