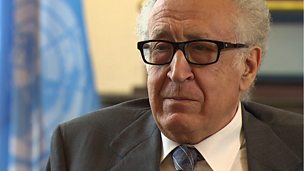 Syria conflict: 'There is no military solution'
Duration: 03:10
Lakhdar Brahimi, the UN-Arab League envoy to Syria, has called for continued political efforts, both inside the country and internationally, to end the conflict.

Speaking to the BBC's Sarah Montague for the HARDtalk programme, he said there was said no military solution, urging all parties to "work harder together" to find a political answer to the crisis.
This clip is from
Stephen Sackur talks to newsmakers and personalities from across the globe.