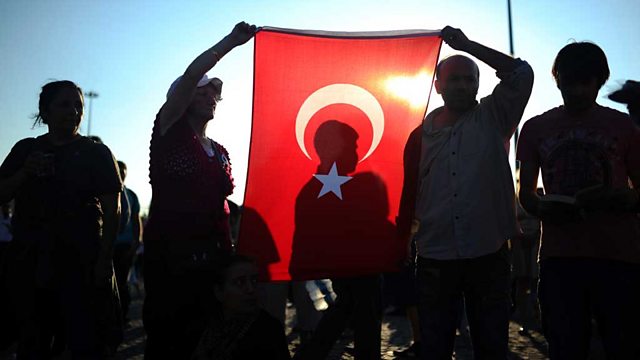 2. Growth of a New Internationalism
Listen in pop-out player
Over the last two decades Turkey's sustained economic growth has transformed the country. Now it is pursuing a foreign policy agenda to match its growing regional and global significance. No longer content to simply mirror and support the interests of its traditional ally the US, it is forming new relationships, or rather it is re-forging old alliances broken in the early 20th Century.
Allan Little analyses the growth of a new internationalism within Turkey, one that is creating a powerful commonwealth of co-operation with neighbouring countries in the Balkans, North Africa and the Middle East - the former lands of the Ottoman Empire. What factors have propelled this change and how is it affecting the politics of this volatile region? Turkey is back as a major international player for the first time since the late 18th Century and it is helping to shape the world that is emerging. Are the heirs of Ataturk the 'new Ottomans'?
Allan delves further into the emerging international influence of Turkey, looking across North Africa and the Middle East. The AKP promoted itself as a model of how an Islamically inspired party could govern a democracy. The turmoils of the Arab Spring and Taksim Square have now challenged that optimistic vision. In recent years Turkey had turned away from a close alliance with Israel towards greater involvement with its Arab neighbours – but that involvement is creating as much suspicion as gratitude.
Picture: Protesters in Taksim Square hold a Turkish flag, Credit: Bulent Kilic/AFP/Getty Images
Last on
Featured in...
Interviews, documentaries & voices from 20th and 21st century Turkey.