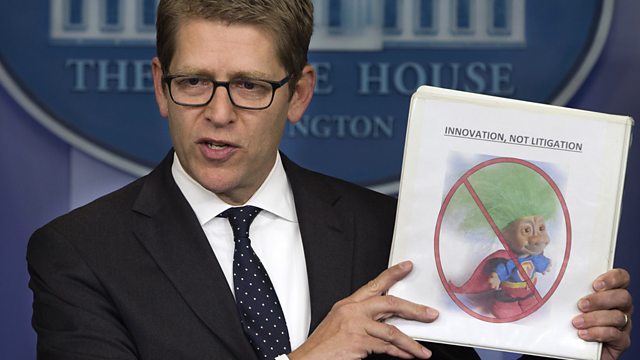 Beware the Patent Trolls
Listen in pop-out player
Patents have been around for centuries, protecting and rewarding inventors, but some say they are now hindering innovation, because of the growing problem of so-called 'patent trolls' - companies that acquire patents, often of dubious validity, and use them to claim license fees from others. The problem is worst in the US, where the activities of the so-called 'trolls' are rapidly bringing the whole idea of patents into disrepute.
Rory Cellan-Jones visits the town of Marshall, Texas, whose legal system has become a tourist destination for patent litigation. He speaks to Michael Smith, a patent attorney and trial lawyer Sam Baxter who has up to 50 people working on a single patent case.
But not every company gives in when the patent trolls come knocking, in spite of the frightening cost of mounting a defence. One business which fought back is Rackspace, which has been providing remote online storage services long before the phrase 'cloud computing' was coined. Rory asked their General Counsel, Alan Schoenbaum, why they were targeted in the first place.
Plus Julie Samuels is a patent attorney who works for the Electronic Frontier Foundation, an organisation with a mission to "protect people's rights in the digital world". She believes that the trolls are actively harming innovation. Even IP Nav's Erich Spangenberg, an outspoken advocate of the patent monetisation business, tells Rory there is a lot wrong with the present system.
(Image: White House Press Secretary Jay Carney holds up a folder with an image of a troll and the words 'innovation, not litigation'. Credit: Associated Press)
Last on