Letting Go
Why do some of us find it easier than others to let go of places, people, the past, or ideas and traditions? Bridget Kendall talks to Bulgarian writer Miroslav Penkov who left his homeland and his native language to seek a new life in the United States; medical doctor and philosopher Raymond Tallis who says to let go of old assumptions, we need to stop thinking too hard, and just walk and look; and Chinese choreographer Xu Rui who is encouraging classically trained Chinese dancers to let go of their strict traditional styles and embrace new moves.
Photo: Children let go of balloons, Credit: Stephane De Sakutin/AFP/Getty Images
Last on
Miroslav Penkov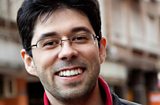 Writer Miroslav Penkov left his homeland and his native language to seek a new life in the United States. But then he found them again and his connection to Bulgaria became even stronger even though he was in the middle of Arkansas. So in a world where electronic communication is ubiquitous, how easy is it really to let go of our place of birth? And on a more symbolic level, can a walk through smouldering embers, as practiced for centuries in Bulgarian mountains, free us from the past?
Raymond Tallis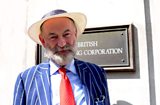 Raymond Tallis has pursued a parallel career as a medical doctor specialising in geriatric care and as a writer and philosopher, disciplines that all require clear thinking. In his latest book, Reflections of a Metaphysical Flaneur, Raymond extolls the virtues of a 'philosopher's walk', something that's quite different from a normal stroll outside and a great aid to freeing one's mind. For Raymond, philosophy as a whole also involves letting go: waking out of ordinary wakefulness, untaking the taken for granted, standing back. 
Xu Rui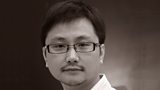 Dance scholar and choreographer Xu Rui has spent many years studying classical Chinese dance: a discipline which is more acrobatic than Western ballet involving spectacular tumbles and leaps, as well as highly controlled, graceful movements. But now he is one of the leaders of an international project called Artscross aimed at giving Chinese, Taiwanese and Western dancers the chance to let go of their own respective traditions and experiment with other styles. Will it lead to the renewal of the old traditions, or to something completely new?
60 second idea to change the World
Miroslav Penkov wants to let go of the ubiquitous North American front lawn.   He says that tending to grass in Texas depresses him. The lawn gives nothing in return: you can't eat it, drink it, wear it. All it does is take: hundreds of gallons of water, gasoline and sweat.  And yet, so many housing associations and city bylaws insist that every house is fronted by a green sward. So in place of grass, let's grow tomatoes: healthy, delicious, communal. That ought to get the reclusive neighbours mingling. Communal harvests, neighbourhood contests for the sweetest, roundest, largest fruit, collective pickling in jars… the sky is the limit.
Comments on the programme
I've never been one to hold on to anything. Country (lived and grew up in more than ten) items (they are just things and do not define me). I do monthly cleaning and donate anything I do not use. I dream of a Japanese style home with only the things one needs. I always liked the feeling that I can put my beloved things in one suitcase and go wherever I want. On the other hand, I do not let go of my pets or my husband. Those are keepers!
Kyra Richter 
The Forum's normally enjoyable standard of intellectual content somewhat slipped with a dalliance with mysticism in your latest show regarding fire walking and comments about 'mind over matter." I think it was someone on another part of the BBC who once explained fire walking. We can reach into an oven and have contact with the air heated to 200 degrees because the density of the air is less than the density of our flesh. The moment we touch the metal shelves, we are burned because the density of these is greater than the flesh on our fingers. The sole of the human foot is denser than the ash and embers of a wood fire. The Forum is a voice of intelligence and thoughtfulness, exploring the vast beauty of ideas and reason. It seldom panders to the human craving for X-files metaphysics, and is all the better for that. 
John Sayer
Next week
What is it that makes us violent? Our circumstances, our environment or our genetic make-up?