Inside Gay Pakistan
This programme contains references to sexual behaviour.
Mobeen Azhar investigates life in gay, urban Pakistan. Despite Pakistan's religious conservatism and homosexuality being a crime, he finds a vibrant gay scene, all aided by social media. He meets gay people at underground parties, shrines and hotels and finds out what it's really like to be gay in Pakistan. As one man tells him, "The best thing about being gay in Pakistan is you can easily hook up with guys over here. You just need to know the right moves and with a click you can get any guy you want."
At a gay party he meets an NGO worker who then takes him to one of Karachi's prime cruising locations - a shrine to a 9th-century Muslim saint. Mobeen meets a "masseur", who works on the street advertising his services. The masseur's real job is selling sexual services to men - with the full knowledge of his wife. And with great difficulty, Mobeen speaks to a lesbian couple, who conceal their relationship from their own parents. One of them argues that it is too soon for gay Pakistanis to fight openly for political rights and that they must find happiness in the personal sphere.
Mobeen discovers that while urban Pakistanis may easily be able to find sex, being in a relationship is far more difficult.
Produced by Helena Merriman
(Image of two men holding hands in the street, Pakistan. Credit to Mobeen Azhar)
Last on
Sat 31 Aug 2013
18:06

GMT
Also featuring in the programme: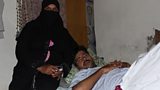 Ahmed Asif's wife is supportive of her husbands work (pictured).
Ahmed has been a masseur for his entire working life. He claims to have slept with over 3000 men but perhaps even more surprisngly, he has 2 wives and 8 children.  One of his wives Sumera wears a burka and the nikab, the full face covering.  It could be assumed that she is religiously conservative.  In fact she's extremely accepting of her husband's work and says she wishes more of society would keep an open mind.  "I know he has sex.  No problem.  If he doesn't work how will the kids eat?"