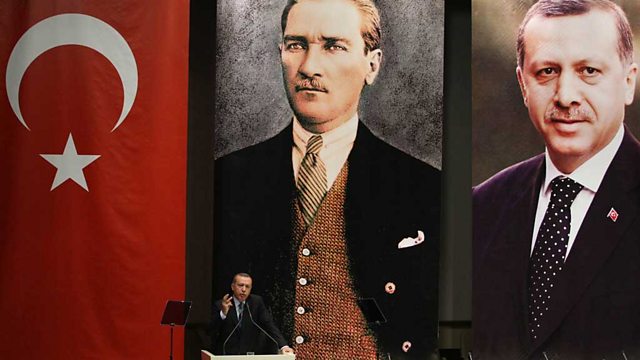 Listen in pop-out player
In a three-part series, Allan Little charts the re-emergence of Turkey in the Muslim world, and the growth of a new internationalism there.
He begins with the birth of the republic and the rigid military-backed secularism of Kemal Ataturk. This was a period when the history of the Ottoman past was downplayed in school textbooks and Turkey looked West towards Europe. Outward displays of religion were suppressed, despite a rise in Islamic conservatism.
These pressures were part of the rise to power in 2002 of the Islamically inspired AK Party under Prime Minister Recep Tayyip Erdogan. The AKP has led Turkey to astonishing economic success and has started to address the longstanding demands of the country's Kurdish minority. The country has started to spread its influence internationally, building strong links with many of the former nations of the Ottoman Empire. However, as one historian observes, Erdogan has promoted a democracy, but an illiberal one, which does not recognise the views of those who oppose it.
The mass demonstrations in Istanbul and other Turkish cities were born of the frustration of an educated middle class – a class ironically created by the AKP's own economic success.
What factors have propelled change in Turkey and how is it affecting the politics of this volatile region?
Picture: Prime Minister Recep Tayyip Erdogan under a Turkish flag and portraits of himself and Mustafa Kemal Ataturk, Credit: Adem Altan/AFP/Getty Images
Last on
More episodes
Previous
You are at the first episode
Featured in...
Interviews, documentaries & voices from 20th and 21st century Turkey.