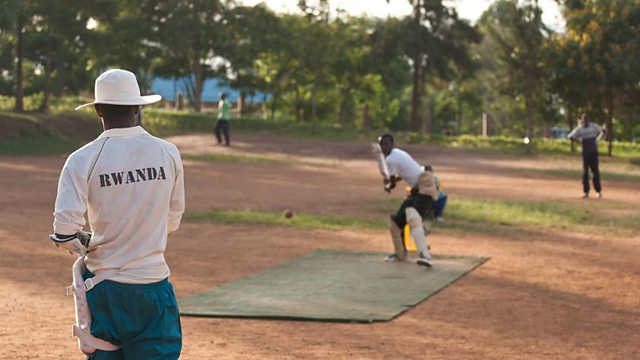 Grounds for Improvement
We look at attempts to build a new cricket ground in Rwanda to cope with the growing popularity of the sport and its use in further healing the wounds of a brutal civil war. Rwanda's only cricket ground is on the site of a former massacre. We hear from those at the Oval who are going to extraordinary lengths to raise funds. Including former British Development secretary Andrew Mitchell and Rwanda cricket president Charles Haba.
We talk about the cost of going to the World Cup with Aussie travel writer Ban Groundwater joins us to give us some tips on a safe, but scrimpy World Cup
Home and Away
England will soon swap home advantage with Australia, but just how significant is that, and what can away teams do to counter it? Sports psychologist Andy Barton works with sports teams to ensure that the difference between home or away gets closer each day.
Silly Point
Our series looking at the language of sport continues with cricket. We'll be exploring corridors of uncertainty whilst trying not to make too many silly points. Our guide Alan Tyers, author of the Alternative Cricket Dictionary.
From Our Own Sports Correspondent
The World Athletics Championships came to and last weekend. Usain Bolt gave Moscow 7 out of 10 for their hosting... Chris Mitchell was there reporting the action on the track for the World Service and considers the city, it's cultural clashes and muted celebrations.
Jockey Rehabilitation
We have a look behind Oaksey House a special facility for recovering jockeys. We hear from jockey Rob Thornton on his long road to recovery and the significant improvement to his chances of recovery from when he started his career
Who-gar?! – Man gets real managers job after playing on computer game
Despite no experience, other than playing a football simulation game on his computer, Vugar Huseynzade has managed to get a job managing FC Baku a team that regularly competes in the top European competition. We hear Vugar's amazing story.
Last on
Sat 24 Aug 2013
10:06

GMT