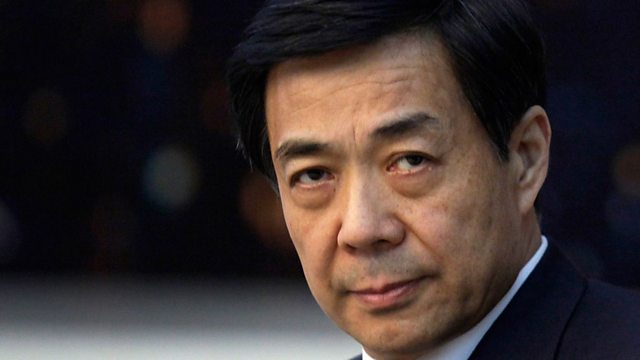 Bo Xilai on Trial
Listen in pop-out player
Bo Xilai on Trial
How are China's social networking sites discussing the trial of one of the country's most prominent politicians? From Hong Kong, Martin Yip of BBC Chinese has been glued to Weibo. Plus, BBC Monitoring's Qiang Zhang gives a background to some of the political powerplay behind the scenes in Beijing.
Af-Pak Football
Afghanistan and Pakistan aren't necessarily known for their footballing rivalries - or indeed prowess - but this week the neighbours met on the pitch for the first international match played in Kabul for a decade. The Afghan Service's self-confessed 'football pundit' Emal Pasarly and BBC Urdu's Shafi Naqi Jamie chart their love of the beautiful game.
Celia Cruz: A Tribute
Carlos Chirinos of BBC Mundo tells the story of the woman known as the "Queen of Salsa" and "La Guarachera de Cuba" - the legendary Celia Cruz, the most popular Cuban recording artist of her day.
Uzbek Airport Rage
Flying to Uzbekistan? Getting on a plane might not be as easy as you think - even if you have a ticket. BBC Uzbek's Ibrat Safo reports.
Remembering the Iran-Iraq War
It's been 25 years since the end of the Iran-Iraq war - a bitter eight-year conflict which destabilised the region and devastated both countries. BBC Persian's Bahman Kalbasi and BBC Arabic's Rafid Jaboori were only small boys at the time, living in Tehran and Baghdad. They share memories of how the war shaped their childhood and perceptions of 'the enemy'.
Online Greatest Hits
Our Portuguese producer Marco Silva has the lowdown of the big-hitting stories across the World Service language sites this week - including smuggling through Kazakh pipelines and make-up-wearing Kenyan policewomen.
Picture: Bo Xilai, Credit: Reuters
Last on
Sat 24 Aug 2013
02:06

GMT