Music Played
32 items
MIGUEL ASTORGA ANAYA & JOSE NARANJO FERNANDEZ JABERA

MIGUEL ASTORGA ANAYA & JOSE NARANJO FERNANDEZ JABEGOTE

SANDRA SANTISETEBAN (Vox), LUIS MARIANO RENEDO (guitar), JOSE CANIZARES (perc) TANGOS

ENRIQUE MALDONADO FERNANDEZ (guitar), LUIS FAJARDO JIMENEZ "PIRRIQUI" (vox) BULERIA

ENRIQUE MALDONADO FERNANDEZ UNIDENTIFIED GUITAR MUSIC

ENRIQUE MALDONADO FERNANDEZ (hammer), LUIS FAJARDO JIMENEZ "PIRRIQUI" (vox) MARTINETE

ANTONIO BARRUL JIMENEZ, BORJA ACOSTA, RAMON JIMENEZ CANELA, SUSANA BORJA VIZARRAGA, NOEMI BORJA VIZARRAGA TANGO RUMBA

MILES DAVIS & GIL EVANS CONCIERTO DE ARANJUEZ

ADAGIO

EL CABRERO SINGER SIGUIRIYA

GASTOR DE PACO (guitar), ANTONIO DEL GASTOR (guitar), PACA DEL GASTOR (singer) BULERIA

GASTOR DE PACO SOLEA

RAYA REAL VOLVIERON LAS CIGUENAS, VAMOS A BEBER!, PASA LA VIDA, LA ROCINA

MANOLITA DE JEREZ BULERIAS

NINO JERO FANDANGOS

MANUEL JERO (guitar), RANCAPINO CHICO (vox) TANGOS

CAMARON DE LA ISLA & PACO DE LUCIA BULERIAS

CARMEN DE LA JARA (vox), JUAN JOSE ALBA (guitar) ALEGRIAS
BBC Four: World Music Season

This programme is part of BBC Four's World Music Season.

From afrobeat to zydeco via juju, panpipes and Uzbek folk, this is the story of the music that broadened our horizons.
Credits
Producer

Ben Whalley
Director

Ben Whalley
Executive Producer

Mark Cooper
Presenter

Elizabeth Kinder
Searching for the real story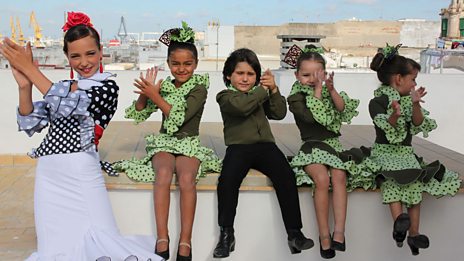 "Would our cameras somehow interfere with the genuineness of the event?"