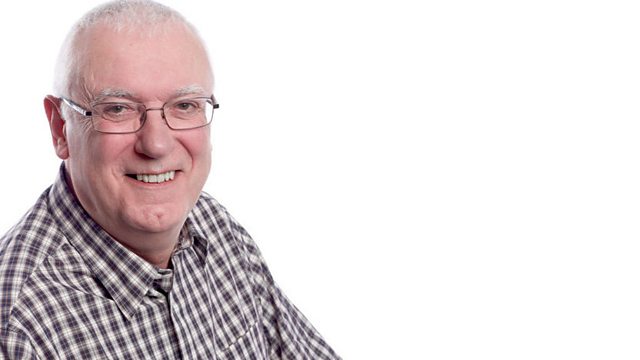 The Cartridge Years: 1975, 1985 and 1996
Richard turns back the clock with the hits and local headlines from 1975, 1985 and 1996.
Last on
August 1975
The UK's newest motorway was opened.  The M27 opened between Cadnam and Ower.
Hampshire Police set up a mock accident on an unopened stretch of the motorway near Burseldon.
The grass skiing championships took place on Butser Hill.  
Consultants and surgeons were unhappy with the conditions at Boscombe hospital.
A Spitfire and a Supermarine-5 were seen together over Southampton Water in a demonstration display.
German operator TT Lines withdrew their car ferry service between Southampton and St Malo.  Their ferry, Mary Poppins was turned away from Southampton port by dockers who refused to unload her.
Southampton based golfer Guy Hunt was preparing for the Ryder Cup.                 
20 warships were open to the public at Navy Day in Portsmouth Historic Dockyard.
A powerboat race and a yachting regatta clashed in Poole.  The yacht races were postponed to give the powerboats clear waters.
Mummers were performing their travelling play in Dorset.
AA Patrolmen were on a work to rule.
Cat owners on the Isle of Wight were having their pets immunised against a strain of feline enteritus.
Ian St John was Portsmouth's manager.
The Isle of wight owners of an impounded fishing boat paid their outstanding VAT demands in small change in a protest against the charges.
The Bournemouth Railway Museum opened.
The British Hang Gliding championships took place in Wiltshire.
Stunt woman Mary Connors attempted to be cannoballed across the River Avon.
Volcano Predskazany, on the Kamchatka peninsular of Japan erupted. 
The Royal Navy sent flotilla through the Suez Canal, the first since 1967 as part of a world tour.
Six IRA men were found guilty of bombing two Birmingham pubs the year before.  Their convictions were later overturned.
August 1985
Another section of the M3 motorway opened between Bar End and Easton Lane in Winchester.
Southampton Football Club said they were determined to keep violence off the terraces this season with the help of the well established Family Centre. 
The crew of the Virgin Atlantic Challenger, which sunk attempting to break the Blue Riband record arrived in Portsmouth.
Customs men in the South joined a national campaign for more government money and jobs to fight drug smuggling.
The 50th anniversary of the Dakota was being marked with celebrations at Bournemouth airport.
There was a fire at Eastleigh Airport.
150 sheep were stolen from a farm in Whitchurch.
"Drum of England" - Simon Le Bon's yacht which capsized in the Fastnet race was in a Swanwick boat yard for repair.
Countess Mountbatten unveiled a plaque at Osborne House in East Cowes.
The Met Office was optimistic of an improvement to the weather, despite a bad summer so far.
The strike on Townsend Thoresen Ferries at Dover ended. 
The Queen & other members of Royal Family began their annual summer holiday at Balmoral.
Annual rate of inflation dropped from 7% to 6.9%. The mortgage rate dropped by 1.25%.
Freddie Laker was in court over the collapse of his airline Skytrain. 
Airliners were carrying out safety checks on their Boeing 747s in light of crashes involving Air India & Japan Airlines planes.
Rail guards were on strike over one man operated trains.
A TWA jet, hijacked by Shi'ite gunmen in June left Beirut airport.
Ayatollah Khomeni made a rare public appearance at Iranian presidential elections.
August 1996
Sailors in Cowes were saying that the increase in corporate events is ruining the spirit of Cowes.
Radio 1 were in Bournemouth for a beach party.... Police were investigating after drunken youths started fighting on the beach
Work began on deepening the main channel in Southampton Water to allow the world's largest container ships to dock.
Isle of Wight sailor Andy Cassell was competing in the Paralympic Games in Atlanta, Georgia.
Survivors of the Dunblane school massacre were in the New Forest.
Cannabis valued at £750,000 was found on the ferry Barfleur in Poole.
A car that drives itself was being developed by scientists at Southampton University.
Southampton City Council wrote off £400,000 poll tax debts.
Investigations started after a fatal train crash at Watford.
A number of dead foxes were found strung up between branches ina secluded Isle of Wight copse. 
Dorset's first fire boat went into service at Poole.
Sections of the Titanic were brought to the surface, despite protests from some survivors.
The inventor of the jet engine Sir Frank Whittle died in America aged 89.
Construction of the Newbury bypass was underway, despite anti roads protests.
Postal workers were on strike.
At least 70 people died in a flash flood which swept through a camp site in Northern Spain. 
Boris Yeltsin was sworn in as Soviet President for the second time at the Kremlin.
Michael Schumacher won the Belgian Grand Prix