Filming a seahorse giving birth

One of the most magical stories of the Spring episode was about an animal that most people might not even recognise as being British: the spiny seahorse. These incredible creatures are almost unique as the male, not the female, carries the eggs and gives birth to the young. They are hard to film; not only are they shy and secretive but the seagrass beds they live in are increasingly threatened in the UK.




The team already had footage of sea horses filmed at Studland Bay in Dorset but they wanted to capture the moment when the male gave birth. To film this in detail would require specialist lenses and controlled conditions, which, although theoretically possible in the wild, would be a potential risk to an already endangered population.




To meet the challenge of filming this rare behaviour the team joined forces with the Sea Life Centre, in Weymouth, Dorset. The Sea Life Centre had the facilities and expertise as well as a captive breeding programme underway.




The crew set up a filming tank that mimicked, as closely as possible, the natural sea grass habitat where they had already been filmed just a few miles away. A pair were introduced to their new home and after a period of settling in, they hit it off, the male was soon pregnant.




Filming him giving birth was not so straightforward. Cameraman Matt Thompson spent days watching a pregnant male seahorse doing not very much apart from looking more and more uncomfortable. 'It just made me glad to be a mammal', Matt said. When the male's labour started, Matt was on hand to capture the moment.
Credits
Narrator

Joseph Fiennes
Series Producer

James Brickell
Executive Producer

Mike Gunton
Producer

Bridget Appleby
Open University: free poster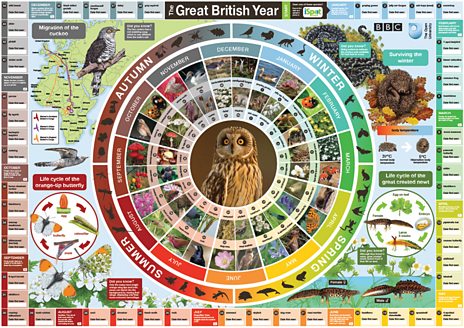 Get a free poster and start your record of seasonal sightings of animals and plants.
Learning Zone

The Great British Year made specially for 4-6 year olds.
Depicting seasonal change

Find out more about the stunning timelapse and timestudy sequences in the series.
Buy online
Available on: Video download
From one supplier: iTunes