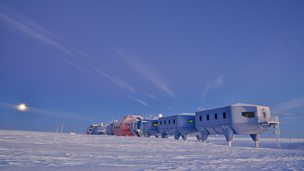 Antarctic scientist: 'We watch The Thing once a year'
Duration: 01:53
An exhibition on Antarctic architecture opens on Friday 26th July in Glasgow, commissioned by the British Council. The new British Antarctic Survey Halley VI base, a Thunderbirds-inspired building, sits perched on top of stilts with skis.

Inside Science's Adam Rutherford speaks to the current Halley Base Commander, Agnieszka Fryckowska, to find out what it's like to live and work during three months of darkness in this extraordinary structure and how the crew occupies their spare time - including marking midwinter with a yearly showing of the Antarctic research base-set horror movie, The Thing.
Available since: Fri 26 Jul 2013
This clip is from
Dr Adam Rutherford explores supermaterials, brain scanning and Antarctic architecture.
First broadcast: 25 Jul 2013