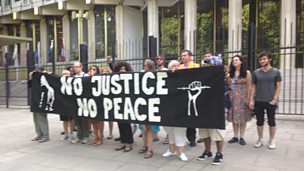 A march for Trayvon, Azelle, Stephen and Jimmy - Northampton
Duration: 03:08
It happened in America, but Black communities in the UK have reacted strongly to the murder acquittal of George Zimmerman, the killer of unarmed 17 year old Trayvon Martin.
Response to the verdict has been rapid, with outrage expressed all week on social media sites and protests held as marks of solidarity to the family of Trayvon.
His parents have spoken to US television, saying they're shocked and disgusted by the verdict. And the injustice felt by these parents seems to resonate with black British people too.
A march – to express outrage at not only the Trayvon verdict, but the injustice for the families of Azelle Rodney, Stephen Lawrence and Jimmy Mubenga – is being planned for this coming Saturday.
In this extract, Lee Jasper co-chair of Black Activists Rising Against Cuts, explains to Mark Dean why they're organising this march.
Available since: Tue 23 Jul 2013
This clip is from
Mark Dean presents Atlantic Soul on Fridays at 7pm and Inspirations on Sundays from 4pm.