Responsible Electronic Waste
Responsible Electronic Waste Act
The US has unveiled the Responsible Electronics Act. Federal government plans to ban overseas dumping of electronic waste. There have been numerous examples of unscrupulous dumping of waste, exported from the US, often to China. Critics say there needs to be an urgent cultural shift on the part of both the manufacturers and recyclers. Barbara Kyle from the Electronic TakeBack Coalition discusses how to responsibly recycle electronic waste.
SIGGRAPH: Exoskeletons on the March
The Electronic show SIGGRAPH took place in California this year, close to Hollywood. Mike Seymour reports on the use of Open Source in the film industry, how studios are turning to open source code to get blockbusters made - and also on the development of Exoskeleton suits designed for the French Army, which may have the future application of enabling quadriplegics to walk again with direct neural implants.
Jamaica Police and Geeky Thieves
Police in Jamaica want people not to send cell phone messages about check points and roadblocks because they are warning criminals. Broadcasting messages via Blackberry Messenger and WhatsApp has become a common way to avoid road blocks and speed traps. But with one of the highest murder rates in the world, it is also adding to the island's crime problem. The BBC's Nick Davis reports form the Jamaican capital, Kingston.
(Photo: Waste trucks unloading computer parts. Credit: AFP/Getty Images)
Last on
Wed 31 Jul 2013
08:32

GMT
Mike Seymour in a CEA Tech Exoskeleton at SIGGRAPH 2013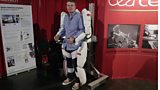 Photo credit: John Montgomery