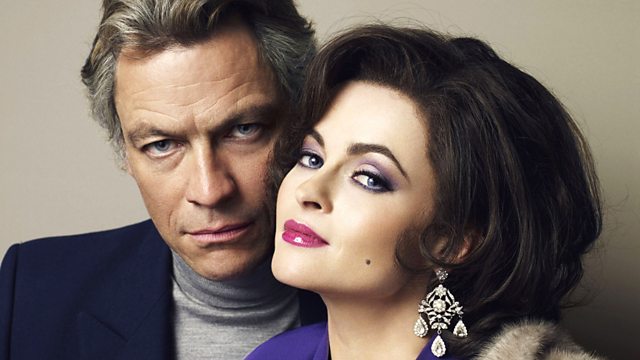 Burton and Taylor
Drama telling the story of Hollywood's most glamorous couple, Richard Burton and Elizabeth Taylor, who acted together for the last time in Noel Coward's Private Lives in 1983.
When Elizabeth Taylor and Richard Burton met on the set of Cleopatra, the attraction was immediate. The public were enthralled by their illicit romance, two tempestuous marriages, frequent break-ups and extravagant reunions. They were the original fabulous stars, conspicuous in their consumption of clothes, houses, yachts, diamonds, and, more damagingly, alcohol.
In 1976 Richard and Elizabeth divorced for the second time. They both married other people and it seemed that the romance of the century might truly be over. Then, in 1982, they both separated and were free again. In 1983, Richard and Elizabeth had one final reunion on the stage when they spent seven months touring with Noel Coward's Private Lives. During the tour public speculation grew about the possibility of another marriage, but in private old frictions played out once again. Speculation about another reunion ended when Richard Burton married his fiancée Sally Hay halfway through the run.
This is the story of the first celebrity 'it' couple. Beyond alcohol, pills and the trappings of fame, was love the ultimate crutch that allowed them to escape the realities of their extraordinary lives? Funny, glamorous, tempestuous and dripping with diamonds, this is the last battle of the Burtons.
Find out more about the original fabulous stars Richard Burton and Elizabeth Taylor.

"The big question I always had was why did Richard agree to take part?"
Credits
| Role | Contributor |
| --- | --- |
| Elizabeth Taylor | Helena Bonham Carter |
| Richard Burton | Dominic West |
| Kathryn Walker | Sarah Hadland |
| John Cullum | William Hope |
| Milton Katselas | Stanley Townsend |
| Mike | Michael Jibson |
| Chen Sam | Lenora Crichlow |
| ASM | Jess Doherty |
| Zev Bufman | Greg Hicks |
| Maria Burton | Isabella Brazier-Jones |
| Liza Todd Burton | Lucille Sharp |
| Sally Burton | Cassie Raine |
| Reporter | Martin T Sherman |
| Journalist | Trevor White |
| Journalist | Jeff Mash |
| Producer | Lachlan Mackinnon |
| Director | Richard Laxton |
| Writer | William Ivory |