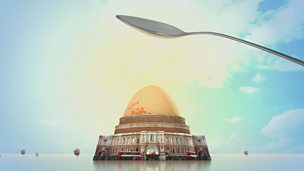 Dip in to the BBC Proms. All summer on TV, radio and online.
Duration: 00:47
Watch the TV trail for the BBC Proms 2013 season.

It's easier than ever to dip in to the BBC Proms.
Every Prom is broadcast live on Radio 3 and many are televised.
Online at bbc.co.uk/proms you can find details of every Prom as well as the Proms on TV schedule.
In addition to a Where to Start guide you'll find a wealth of audio and video insights into the music and composers featured in this year's season, including preview clips, downloads, video highlights and much more.
For regular updates during the season follow @bbcproms on Twitter.
Available since: Sat 29 Jun 2013
This clip is from
All broadcasts from the 119th season of the BBC Proms.