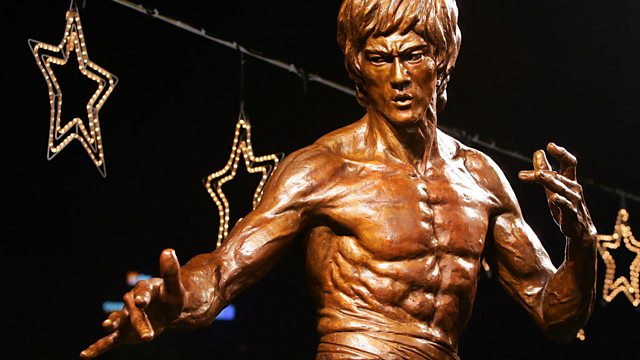 The Global Appeal of Bruce Lee
Listen in pop-out player
Stories From the Frontline: Mogadishu
BBC Somali's Mohammed Moalimu has been reporting from troubled Mogadishu for nine years but last week faced his closest encounter with death. An al-Shabab suicide bomber, targeting a convoy of Amisom cars in the city, detonated his explosives just as Moalimu was driving past. He was wounded by shrapnel in his shoulder and then the body of the bomber landed on the top his car.
Iran: Hear my Country
How do you find one piece of music that sums up what it is to be Iranian? BBC Persian's Behzad Belour, Ali Hamedani and Golnoosh Golshani battle it out to pick one song that defines their country.
The Mystery of the Ill-Fated North Korean Ship
BBC Mundo's Arturo Wallace investigates the intrigue around the Chong Chon Gang - the North Korean ship that was detained in Panama with an undeclared cache of Cuban weapons on board.
A Brief History of Russian Trials
From Moscow to the obscure town of Kirov, the Russian Service's Oleg Boldyrev reports on the twists and turns of the trial of the anti-corruption campaigner, Alexei Navalny. Plus, Editor Olexiy Solohubenko and journalist Mark Grigoriyan wade through the annals of some of Russia's most infamous trials.
The Global Appeal of Bruce Lee
It is 40 years since the death of Bruce Lee, but the global adoration for the martial arts superstar lives on. Why is he so popular? Stories of adoration from Nairobi to Sindh via Zimbabwe, Ghana and Iran.
Online Greatest Hits
BBC Brasil's Thomas Pappon gives the lowdown on the big-hitting stories across the World Service language sites this week, including perfumed underpants and Turkmen holiday allowances.
(Image: A bronze statue of late martial arts legend Bruce Lee in Hong Kong.
Credit: Getty Images)
Last on
Sat 20 Jul 2013
02:06

GMT