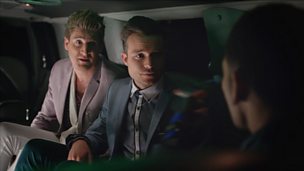 Scott and Dan beg DJ Crumbs
Duration: 01:39
Co-owners of wannabe Mahiki-style super club 'Bamboo', Scott and Dan face disaster on their launch night, after offending their superstar DJ Crumbs. In a last-ditch effort to save the night, they track down Crumbs and beg him to come back to Bamboo. But Crumbs wants them to suffer first - and makes an outrageous sexual request that will test their friendship. Featuring exciting new sketch duo Totally Tom and Luke Smith, AKA rapper Luc Skyz.
Available since: Fri 28 Jun 2013
11 months left to watch
This clip is from
Sitcom about two douchebags united by one dream – to run a VIP super-club.