Google's Project Loon
Project Loon is Google's experiment to provide internet access to the world from balloons floating 20 kilometres up in the sky. The concept has just been tested in New Zealand. The balloons are 15 metres in diameter, about the length of a small light aircraft and made from a very tough plastic. They have solar panels on board, computers, antennas and a control system.
The balloons can be inflated to change their height, which is key as the project plan is to launch hundreds of balloons into the stratosphere and have them circling the world providing internet access in places where there's poor connectivity. Simon Morton travelled to rural Canterbury to meet farmer Charles Nimmo. Charles was the first person to access the internet from one of Google's balloons.
To be useful, autonomous robots need to move. But how do robots navigate their way over terrains and around obstacles? Two robots, Dora and Bridget have recently demonstrated just how at a convention in southern England. Dora is a self-guiding, human-sized robot on wheels, learning to navigate around indoor environments and Bridget is the prototype for the next Mars rover for ESA. Jennifer Whyntie reports on robots on the move.
'Hell is other people' wrote the philosopher, Jean Paul Sartre. It's a view held by the technologist, Scott Garner who has developed an app to help him avoid people. Garner talks to Click about the app that enables him to avoid friends and enemies as he walks around New York, enjoying an aimless uninterrupted wander.
(Photo: The Project Loon team prepares solar panels, electronics and balloon envelopes for launch as the sun rises in New Zealand © Project Loon Google)
Last on
Wed 10 Jul 2013
08:32

GMT
Bridget with Abigail Hutty and Dora the Explorer with Nick Hawes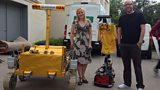 Photo by Jennifer Whyntie