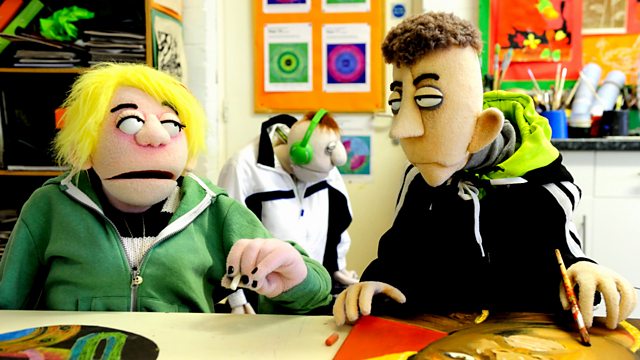 A cast of delinquent puppets speak with the voices of real teenagers. They face a case of itchy testicles, attempt to sell their GCSE art coursework and serenade Basshunter to the girls they fancy. Using recordings with real teenagers who have been thrown out of mainstream school, the show captures the banter, backchat, embarrassment and dreams of kids on the edge.
All puppets are voiced by the anonymous participants from Compas Learning Centre and Sherborne Learning Centre.
Last on
About Fuzzbox
The voices featured in Fuzzbox were recorded at two pupil referral units, for kids excluded from mainstream school.
Puppets based on the pupils were then made and filmed on location.
The pupils have all met their puppet equivalents and got on like a house on fire!
Credits
| Role | Contributor |
| --- | --- |
| Director | Peter Snelling |
| Producer | Sally Snelling |
| Associate Producer | Michael Berliner |
| Colourist | Tom Balkwill |
| Puppeteer | Helen Day |
| Puppeteer | Marc Parrot |
| Puppeteer | Adam Fuller |
| Director of photography | James Price |