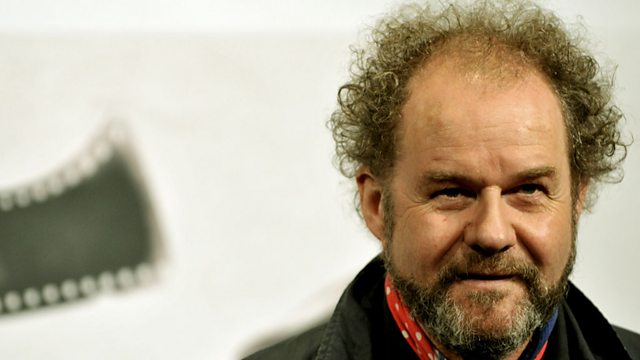 Film Director Mike Figgis
"My first attempt to direct James Gandolfini was an absolute disaster - he was winding me up" - film director Mike Figgis talks about the tough time he had on the set of The Sopranos, as well as his new film Suspension of Disbelief - a film-about-a-film-about-film-making.
Also, author Anchee Min on how she persuaded the Chinese authorities that she wanted to move to the US to spread revolution there. Plus, make-up artist Stuart Freeborn on how he combined his own features with Albert Einstein's, to come up with the face of Star Wars character Yoda.
Writer David Sedaris talks about his remarkable images - a stolen mink coat becomes 'a bear that had fainted in my arms'. Film-maker Joshua Oppenheimer on his documentary the Act of Killing, in which the perpetrators of the 1965 massacres in Indonesia, re-enact these atrocities in the style of Hollywood movies. And, reclusive Norwegian writer Karl Ove Knausgaard, on the best-selling memoirs which shocked his family.
(Image: Director Mike Figgis. Credit: AFP/Getty)
Last on
Love the music on this week's programme? Here's the playlist ...
Along with soundtracks relevant to our interviews, the music in this week's show includes writer Anchee Min's daughter playing a cover version of 'The Piano', two of interviewee David Sedaris's favourite artists Betty Carter and Joni Mitchell and an exclusive live session from The Little Unsaid. 
............
Detroit Escalator Company – Abstract Forward
Silk Road Music – Shananxi Air
Royksopp – So Easy
Joni Mitchell – Hejira
John Elliott – Disneyland
Elen Oyen Vister – Act of Killing Soundtrack
Orchestra – Leaving Las Vegas
Mike Figgis – Suspension of Disbelief Soundtrack
Alabama 3 – Woke Up This Morning
Lauryann Min – The Piano
Youssou N'Dour – Bekoor
Kasumai – Anniversaire
Sean Talamh – Belfast Mill
Energy Orchard – Belfast
John Williams – Star Wars Main Theme
Betty Carter – I'm Yours, You're Mine
Roger Williams – Born Free
Bugge Wesseltoft – Yellow Is The Colour
John Elliott – The Score
Jessie Ware – If You're Never (Live At Glastonbury 2013)
The Little Unsaid – Through The Fields (Live Acoustic)